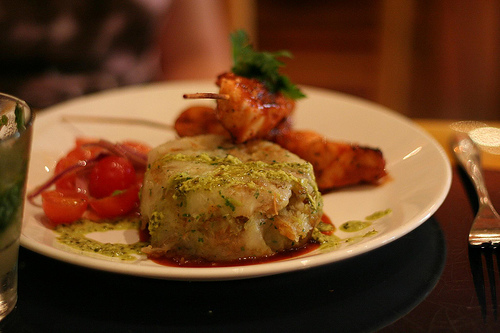 Looking for a summer getaway?  The world-renowned beaches in Miami are a popular summer-time destination and while people swim the Atlantic and bury themselves into the hot sands to sunbathe, they also crave a refreshing meal along the shoreline.  There are many waterfront cafes and restaurants offering fresh seafood, healthy salads and barbeque-style grills.  With a variety of Latin, Asian, Caribbean and Southern comfort food, Miami is one of the best cities for world cuisine.  As a frequent South Beach visitor, I can't get enough of these five all-time favourites.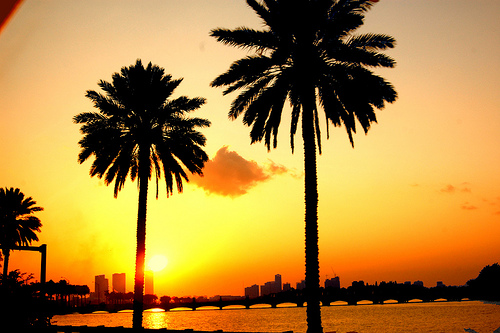 Mandolin Aegean Bistro 4312 NE 2ND AVE, MIAMI, FL 33137
Mandolin is a courtyard delight for Grecian and Turkish cuisine.  So experience fine dining in the Greek Isles with their lush mezes to sample specialties like lamb meatballs, grilled octopus and stuffed eggplant.    I've enjoyed their pink sultan salad which is a colourful mix of shredded beets, Greek yogurt, garlic and fresh mint.  The flaming pan-seared cheese saganaki is a treat for the eyes and your taste buds.  This is a fabulous choice for an entertaining dinner with your family or friends.
La Camaronera Restaurant & Fish Market 1952 W FLAGLER ST, MIAMI, FL 33135
Miami's hidden gem, here's the world's best fried fish sandwich hands down.  This old fish bar was discovered by Guy Fieri and has now become an ultra-popular spot to catch the best fish fry in town.  The signature sandwiches include the pan con minuta snapper, shrimp sandwich and the famous 'fish box' lobster sandwich.  The tarter and hot sauces will tickle your tongue at first but you're bound to reach 7th heaven by your very last bite.  If you want to cool off the intensity, go for the key lime pie – a Miami staple food.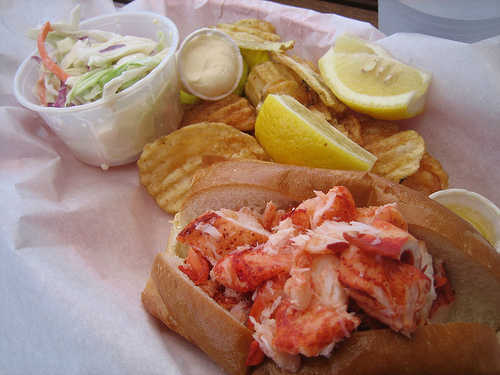 Blue Collar 6370 BISCAYNE BLVD, MIAMI, FL 33138
Launched in 2012, this American diner is run by Chef Daniel Serfer.  It's home to the famous Corben sandwich, which was designed especially for Serfer's chief guest and film director Billy Corben.  The fries are the best you can get in Miami and the star dish for me is the $13 Cordon Bleu sandwich, a flavourful fried chicken on a bed of Serrano ham, manchego cheese, onions, lettuce and Dijon mustard.   So if you're driving down Biscayne Boulevard, be sure not to miss this spot as it is tucked away. Find more here for ways to get around town and visit Miami's best coastal culinary delights.
Zuma 270 BISCAYNE BLVD WAY, MIAMI, FL 33131
Rainer Becker's contemporary culinary mafia offers Izakaya-style Japanese cuisine for visitors and local socialites alike.  The vibrant ambiance accompanied by a tantalizing menu makes Zuma my favourite Japanese kitchen.  I visited the trendy sushi bar with friends and we loved the lime-infused calamari, tuna-salmon tartare with seaweed crackers, spicy yellowtail roll and the chocolate soufflé.
Jimmy'z Kitchen 1542 ALTON ROAD, MIAMI BEACH, FL 33139
One of my favourite lunch stops for a perfect Caribbean fare, Jimmy'z Kitchen serves a variety of paninis, fresh salads and savoury grilled entrees.  It's the ideal place to go on a hungover Saturday morning for an Afro-Boricuan dish called mofongo – mashed fried green plantains, garlic, crispy pork rinds, all soaked in a spicy tomato sauce topped with olive oil.
About the author: Amna Alam is a London-based freelance writer who enjoys travel, fashion and world cuisine.