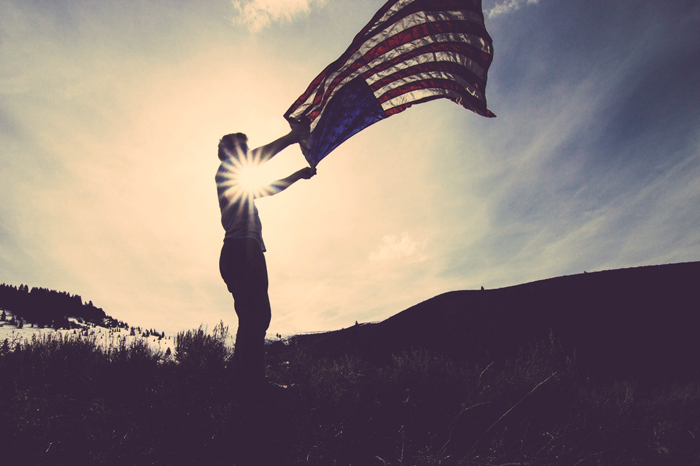 The United States is one of the most diverse and varied countries in the entire world. From its history and culture, to its art and architecture, no two states or cities are the same – and when it comes to the food, any traveller will be spoilt for choice wherever they choose to visit.
If you're planning a trip to the US of A in the near future – particularly if you're a foodie – then you could be in for the quite the literal treat. While all kinds of unique cuisines, traditions and dishes can be found across the whole of America, there are a few standouts that are well worth checking out if you're a gastronomic explorer.
New York state
New York State has a culinary culture that is increasingly embracing its rural roots. Local fresh ingredients are now a staple in one of its thousands of restaurants, and community-based farmers' markets bring their own traditional charm for travellers to experience.
It isn't just food that the state is fantastic for. In the U.S, New York State ranks third in volume of grape production after California and Washington; the state is home to some truly spectacular wines, dating back to its 17th Century Dutch heritage. If wine isn't your thing, then you can always unwind with some regional cocktails, including the world-famous Manhattan and Cosmopolitan.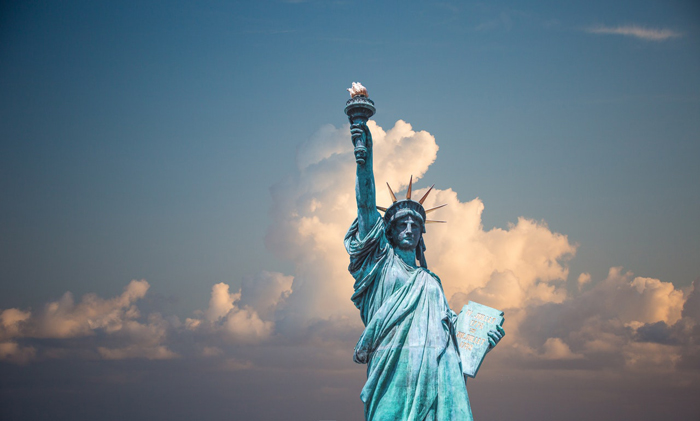 New York City
Any visit to the state of New York would be incomplete without a visit to New York City itself, and if you're seeking out the best U.S food as you travel, you'll be spoilt for choice in one of the world's Michelin star capitals. With some globally iconic staples, even New York's nickname – The Big Apple – tells you what's in store.
Some must-try dishes include freshly baked bagels, which are available across the whole city in any number of bakeries and cafes. For an authentic New York bagel, eat it fresh from the oven, and don't toast it. Pizza is another classic New York food, and a trip to Manhattan's Little Italy could be the perfect place to get a taste of an authentic 'pie'.
Other notable dishes include the humble hot dog and the New York Cheesecake. But before you spend your dollars, do some research into where to find the most authentic New York food. With so many places to eat, it's easy to fall into a tourist trap for a subpar culinary experience.
 Buffalo
While not as iconic as NYC, Buffalo New York is also home to some wonderful food that's well worth trying if you visit the west of the state. Buffalo wings need no introduction, and eating them fresh in their home city is easily the best way to try them. Some lesser-known dishes include the delightfully simple 'beef on weck', a modest combination of roast beef and horseradish served in a kimmelweck roll, which is hard to find anywhere else.
Other fantastic things to sample include the bizarre-sounding grape pie. It does what it says on the tin, and with the grape-growing heritage of the region, this is a dessert you'll instantly fall in love with. If you get the chance, then the festival favourite 'spiedies' (marinated meat, skewered and grilled then served in a bread roll) is another must-eat.
 Texas
Texas is known by many as the true home of barbecue, and if your travels are taking you down south, you'll be in for a gastronomic experience quite unlike any other. The epitome of simple, traditional cooking, Texas food is some of the best in the nation. While foodie haven Austin is the perfect place to make a pit stop, the state is hugely diverse, and places like El Paso could also offer a pleasant contrast for your palette.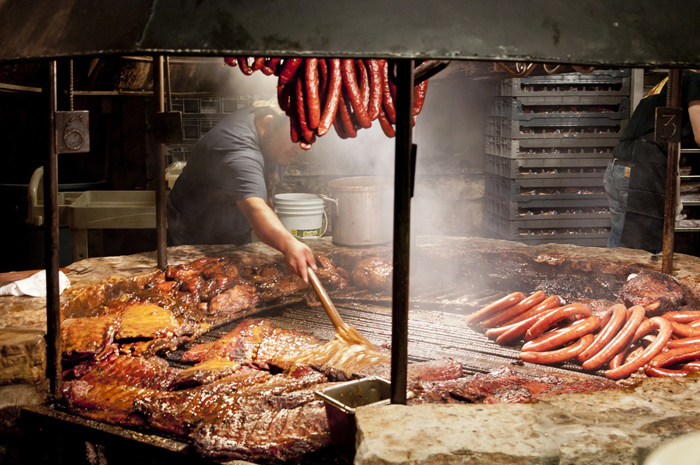 Photo by vxla on Flickr
Austin
Austin is a city brimming with culture and artistry, from its music to its iconic food. If you're eating in Austin then there are all kinds of iconic dishes to try, but top of the list should be barbecued beef brisket.
This slow-cooked speciality is melt in the mouth magic, and is unmissable. The Mexican influence on Texan cuisine is also well-represented in Austin; whether it's an enchilada or a margarita, sampling some Tex-Mex is never a bad idea.
 Louisiana
For any foodies heading to the deep south, Louisiana is a state known the world over for its soul food and hearty southern cooking. Louisiana has always been synonymous with great food, and its many eateries draw deep from the well of cultural influences on the state. Its French, Spanish and West-African heritage have resulted in the famous 'creole cooking', served in Louisiana long before it was purchased by the United States in 1803.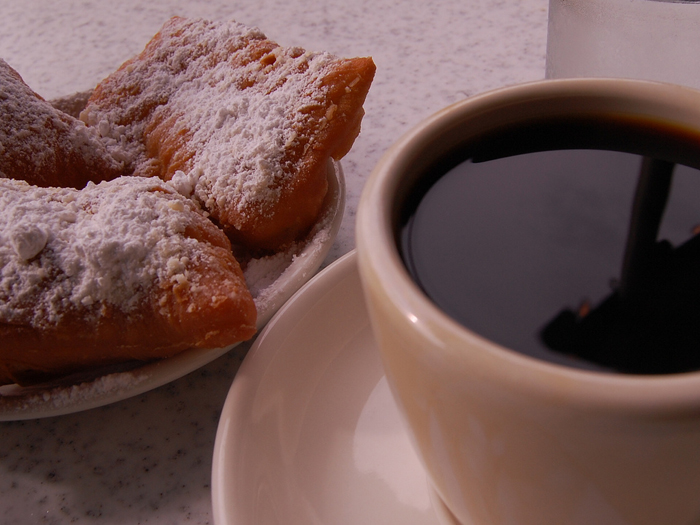 Photo by Shubert Ciencia on Flickr 
 New Orleans
New Orleans is often referred to as the home of jazz and great music, but it's not just alluring sounds that waft down the cities' streets. New Orleans food is some of the best in the world, and any traveller to the U.S looking for great culinary experiences should put New Orleans near the top of their list.
For a quick bite, try a 'po' boy'. Originally served to striking streetcar workers, these crusty-bread sandwiches are filled with all kinds of tantalising meats, including fried shrimp, and are a real treat. For a sweet speciality, try a beignet – a fried pastry akin to a donut, and popularised in the recent Jon Favreau film 'Chef'. Before you leave, you should make sure you sample some authentic soul food too – sample a genuine New Orleans gumbo to complete your southern experience.
 Maine (seafood)
Maine frequently places highly on lists of the best U.S states for food, and the giant state is a fantastic stop to make on your foodie explorations. The seafood on offer here is world famous, with some of the most highly regarded lobster found anywhere. Maine is home to some incredible beers and ciders too – not something to be sniffed at.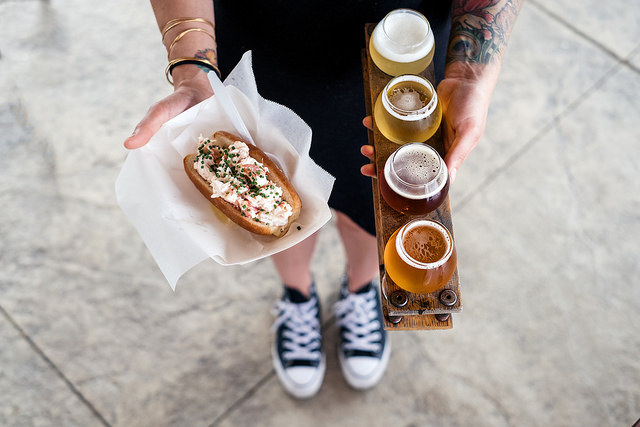 Photo by Allagash Brewing on Flickr
 Portland
During a 'Maine stay', Portland is the go to spot for a gastronomic revelation. With legendary restaurants like Fore Street and Le Pigeon, you'll have no trouble finding a great place to stop and sample the city's most delicious delights. Lobster rolls should top the list here, but other seafood highlights include clam bake and whole shellfish. Maine's blueberries are also some of the best in the world — whether it's in a smoothie or poured over pancakes, don't visit without sampling these tiny blue gems.
About the author: James is a graduate of English, a writer, and an avid traveller. He loves to discover new cultures, and is particularly passionate about food. When not as his writing desk, or travelling to new places, he can usually be found in the cinema catching the latest movie releases.