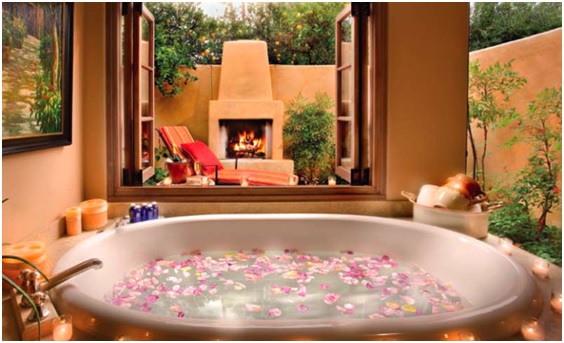 In the pandemonic city of Bangkok, it's hard to find a hammock hung between two flirting coconut trees, planted on a peninsula, and surrounded by a shallow body of opaline water. Here then, enters, the Spa; the next best tranquil place to unwind in languorous fashion. Siam has no shortage of spas and massage parlours, to be sure, but only a scanty handful can substitute the Mediterranean breeze and ethereal beach of a luxury sea-side resort. In this article, we take a look at the most relaxing spas in the city of angels that are worth the splurge, and time spent, to luxuriate in.
A few casual strides off BTS Thong Lo, is Spa at Face; grandly housed in a wooden and traditional Siam mansion that evoke the simpler days of yore. This old-fashioned establishment, offers classic massages with a touch of Thai to relieve physical tension, while redolent aromatic oils appeases the mind from the stresses and strains of today's impossible schedule. The most popular program to sample here is the "Wat Pho Healer". Beginning with a herbal body scrub, it is followed by a stretching yoga massage that implements steamed herbal pouches. The session then ends with a more focused kneading.
Also near BTS Thong Lo, is the luxurious Divana Devine Spa. The "Organic Golden Silk Royal Pampering" is a corporal indulgence. All the ingredients used in this regime are naturally sourced and organically certified. The near-magical properties of the golden cocoon takes center stage in multiple of its sublime treatments; from the "Organic Silk & Korean Ginseng Warm Oil Body Massage" to the "Golden Silk Moisturizing Facial Mask", just to name a few of the golden resplendence involved.
Famous for the "Chocolate Hydrotherapy", Dahra Beauty & Spa, located near BTS Chong Nonsi, takes decadence to a new level of perception. The remedy, designed to spoil the whole body with the virtues of cocoa, is a novelty healing method hard to compare, let alone come by. First, you are invited to "wash" in a seaweed and salt spiced bath. Next, a chocolate scrub is applied to smooth skin and prep it for the nourishing chocolate wrap treatment. An aromatherapy massage soon follows, and then you're invited again to dip in a jacuzzi, this time steeped with petals of full bloom flowers.
Housed in a Thai baan with museum-like quality, and nestled in a peaceful milieu close to BTS Surasak, is Divana Virtue Spa. The most sought after choice on the "Divine Facial Treatments" menu, is the "Concentrate Caviar Facial Age-Defiance". Designed to enliven your aging skin back to a more youthful state, this package incorporates black caviar extract to help stimulate collagen production and smoothen fine lines. From the black caviar facial scrub and deep mask, to the boosting moisturizer cream, your skin is guaranteed to feel more revived and brighten, at the same time, your spirits will feel lifted by the smell of exotic floras.
Ranked among the best spas in the world by Condé Nast Traveler magazine, is Thann Sanctuary; exclusively located in a chi chi locale within BTS Chidlom. The refined ambience and elegant décor of the premise alone will induce a coma-like calm. Thann Sanctuary offers a wide range of treatment plans that can be adapted to your individual needs and concern. The highly recommended course is the "Thann Sanctuary Signature Massage"; a deep tissue oil massage. The firm pressing motions help to release tension in those areas prone to muscular pain, and the rich oils encourage skin renewal, whilst the resins improve overall mental wellness. At the end of it, you will feel comfortably energized.
Perched loftily on the 11th floor of the Christian Lacroix chic, Sofitel So Bangkok, and overlooking the greenery expanse of Lumpini Park, is So Spa. Close to MRT Lumphini, the Parisian hotel's spa is commonly touted by well-to-do Bangkokians as the urban retreat to go to when a pause from everyday life is required. The reputation and laudations are well earned, for at So Spa, only the most exclusive elements money can buy are implemented in the procedures. To really take advantage of the resources available, choose the mystical "Recipe from the Sacred Forest" programme. In this ritzy journey, you will be treated to: a soothing head massage; an intensive-care hair treatment; a rarefied red rice body scrub; and end with a warm coconut body massage that utilizes coconut poultice, and virgin coconut oil of the purest concentration.
So, after exhausting yourself from the daily activities of a vacationer, don't forget to treat your body to an exhilarating cleanse, and your mind to a calming experience, at one of Bangkok's many holistic spas; whether it is at one of those mentioned in this article or suggested elsewhere. To easily travel to the serenity establishment of choice, book into a familiar and professional accommodation located near a BTS or MRT station, such as Mercure Bangkok Siam, so that hiking to these ephemeral Shangri-Las, is a journey that is more leisure than ordeal – who said the spa had to begin at a spa.