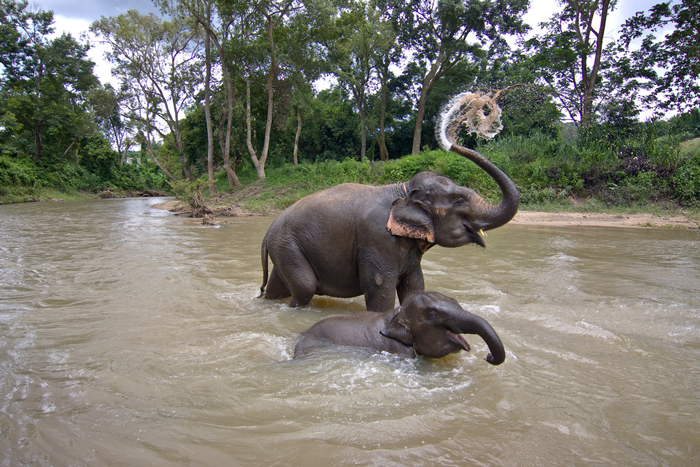 Think that a trip to Thailand just isn't for you? Does it sound too centred around Bangkok's busy bars, and lazing around on the beach at Maya Bay? Are you more of an outdoorsy type? Thailand could actually be your ideal destination, just make the bold decision to camp!
Khao yai National Park
About a three hour drive from Bangkok, Khao Yai National Park is located in the beautiful Sankamphaeng Mountain Range. Its designated camping areas give you the opportunity to spend the night under the stars, surrounded by nature. This is a fairly cool part of Thailand, so make sure to bring a sleeping bag as it can get chilly at night. Unlike in the rest of the country, there'll even be dew on the ground in the morning!
If you're a wildlife lover, then this is certainly the place for you! Driving through the park will bring you face to face with a wild elephant or two and you might even spot the odd tiger on a short trek into the wooded undergrowth. You're sure to see snakes, sambar deer, even crocodiles.
Over the weekends the park can get rather busy, if you're looking to meet other travellers and enjoy a bit of a party atmosphere then it's fantastic, but if you're looking for a more solitary experience then avoid the weekends. Alternatively, try our next destination if you're looking for something a little more adventurous.
Ramkhamhaeng National Park
Widely known as Pa Kho Luang, this national park's tropical jungle and mountains are teeming with wildlife, birds and natural beauty.
Pa Kho Luang is a great place for a climbing and camping trip, but with climbs of 1200 metres available, it's not necessarily for beginners, though trails are well marked and natural streams are available.
There is also a campsite with modest facilities where some dry food can be purchased.
Top tips for surviving the heat
Make sure you're well equipped. Whether you're heading to a mountainous area or just camping out on a beach, proper camping supplies are essential. Just because it's hot doesn't mean you won't need a good tent – pick one up before you go if you can carry it, European camping store Decathlon stock lightweight 2 man tents from £65 and quality is guaranteed, so it might be worth the hassle. Be careful to invest the right sorts of sleeping bag too, one that isn't designed for the arctic but will keep out the chill on a mild night.
Make shade a priority when you're setting up camp. Tents will stay noticeably cooler without absorbing the sun's heat all day, and you'll be much more comfortable falling asleep and waking up.
Stay hydrated. Bring far more water than you'll need, especially if you're going to be hiking, or even just walking. Staying hydrated will help you to sweat, which staves off heat exhaustion.
Wear a hat, sunglasses and sun protection at all times. Protect your face, your skin and your eyes. The Thai sun is hot!