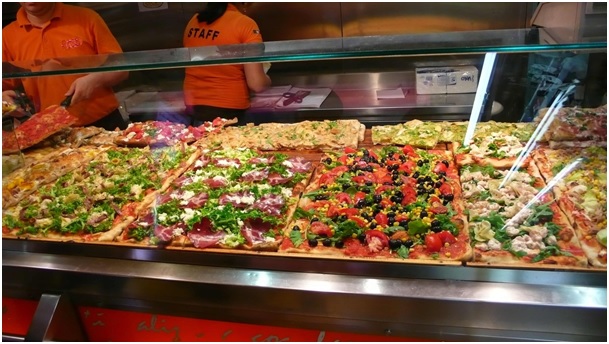 Growing up in a family of spice lovers had always been a painful experience for me. I never quite understood why my family put spice on every meal they ate and always questioned how they enjoyed a meal that set their mouths' on fire! For me, Italian cuisine was my favourite and although my father was originally from Italy, he and the rest of my family always thought Italian cuisine was "too bland". We rarely had Italian family meals and when we did, it was usually just standard pasta.
Italian cuisine
My love for Italian cuisine rekindled when I dated Francesca, a beautiful woman from a large family in Rome. She suggested she would give me a tour through her hometown of Rome of her favourite Italian restaurants and so my journey of eating my way through Rome began.
I couldn't come to Rome without trying the local speciality, pizza al taglio (pizza by the slice). This is a cheap and quick way to enjoy warm, tasty and authentic Italian pizza in just 2 minutes. You can't walk far in Rome without coming across a shop with the words 'Pizza al Taglio' displayed outside. Here, the pizza is cooked in a wood-fired oven and brought out for us to choose how big we want our slice. Perfect for when I just wanted a small slice so I could keep on eating and trying out more varieties.
Having tried small slices from around 10 pizzerias, I fell in love with the capricciosa (pizza with cheese, egg, ham, olive and artichokes) at Da Remo's in the Centro Storico close to the Pantheon. The pizza was so good, I couldn't stop eating it and only cost around €2-4 per slice.
Francesca had a passion for food and she wanted to show me how to really appreciate good food by taking me to a top Italian restaurant. With so much choice and only 7 days to try as much food as possible, I was struggling to choose where to start.
Il Convivio di Troiano
For our first night, we wanted to go somewhere special so we headed to Il Convivio di Troiano, a 2 Michelin star awarded restaurant with an elegant and impeccable design. It really was a romantic and unique experience dining here, with a wine cellar of over 3,000 different labels and a seasonal menu with such exquisite choices. Although it was an expensive choice, it was beautifully prepared and the traditional Roman dishes were given an exciting modern twist. My girlfriend went for the low cooked Monkfish with side of mixed vegetables, whilst I opted for the flavoured lamb shank. Both, exceptional in taste and presentation.
After paying extortionate prices and witnessing designer food at  Il Convivio di Troiano, it was time to try some traditional, more rustic, friendly food at a cheaper restaurant. We chose to go to La Tavernaccia after I heard about how good their pasta dishes were. This family-run restaurant is highly recommended and well-known for its homely, warm and friendly dishes which are perfect for sharing. No, Francesca and I didn't go for the obvious choice spaghetti bolognaise, we opted for lasagne instead as we had heard so much about it. We had no regrets as it was so delicious and the portion size was excellent.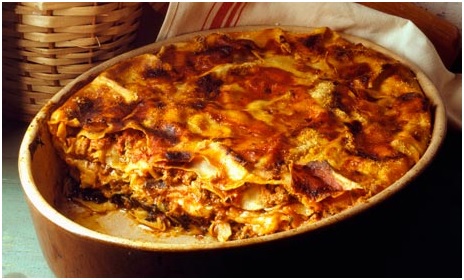 Tavernaccia Photograph: Alamy
The best pastry shop in Rome
Rome is also known for having delicious cafes, pastries and gelati (ice-cream) so being in the city, I had to try some for myself.  Considered by some to be the best pastry shop in Rome, Cristalli di Zucchero, truly did tantalise my taste buds. This is a Parisian-style pasticceria that specialises in upmarket, beautifully presented cakes. I tried the famous Stromboli—a light cake topped with fruit and cream- which costs around €2-€3, relatively cheap for Rome. As well as mouth-watering tarts, mousse, carrot cakes, cheese cakes and brownies, their coffee is equally as good.
Before coming to Rome, I had never tried the famous gelato but as soon as I landed here, I was already on the hunt to find the best Gelato in Rome. Francesca suggested to try the ice-cream at Il Gelato di Claudio Torcè, well-known for the crazy creative flavours and high-quality, all-organic ingredients that Claudio Torcè has come up with. He prides himself on producing more than 100 all-natural flavours including Blue Cheese and Paprika & Chocolate. Although, personally, I found the more traditional flavours like Lemon and Strawberry incredible. If you're planning a trip to Rome, then you must try the gelato.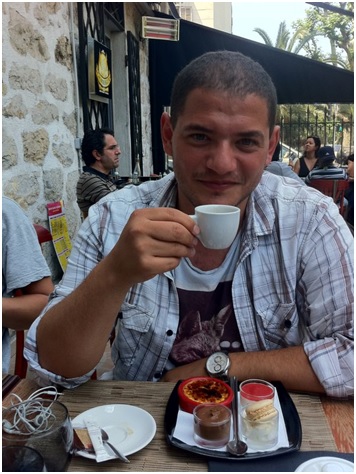 On my eating quest through Rome, I managed to try some of the Italian cuisine I had ever tried. With so many restaurants and cafes across the region,  my love for the dishes has grown ever more and I would really recommend a holiday in Rome
About the Author: Flavio works on the marketing team of a leading online travel company where he shares his passion for travel and photography. He is also a regular blogger, blogging mostly about travel and business. At present, he currently resides in the town of Kreuzlingen on the northern Swiss border between Switzerland and Germany.