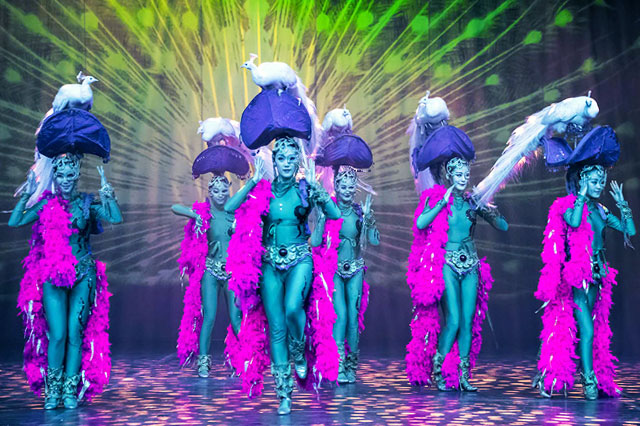 Beijing, the capital of China is jam-packed with cultural and historic sites that leave the visitor speechless and full of emotions. Besides typical touristic destinations to Great Wall, courtyard houses and Forbidden City, The Golden Mask Dynasty in Beijing is something not to be missed. The show tells a story of a Queen who establishes impressive dynasty via knowledge, open-mindedness, faith and unlimited love.
Much appreciated by locals and tourist, the show tells a story of a well-known era in China in eight acts and with more than 200 actors. Breathtaking Chinese dances, costumes, acrobatics, sound and light that feature up to 20 various dances, is what makes this show inspiring and captivating. Gorgeous Queen who wears golden mask leads the army and defeats the attacker – Blue Mask Dynasty and takes its soldiers into hostage.
Due to her unlimited love, the queen decides to free the slaves and grants them the opportunity to marry women of the Golden Mask Dynasty, which resulted in the most harmonious and prosperous society the Dynasty ever had.
Unfortunately, the harmony did not last long as the enormous floods hit the kingdom and endangered the life of its civilians. In order to save her citizens, the Queen sacrifices herself. The flood, which is actual water poured from gallons on the stage, settles down and liberates the population. With civilians boundless love towards the Queen, she turns into a golden sunbird and flies above her hometown blessing the dynasty's well-being.
An artistic jewel was inspired by Sanxingdui ancient civilization, which turned into a world-known show running for more than 10 years already. The show doesn't have any conversations, so the language is not an issue, while the story is perfectly interpreted via moves, dances and various scenes making in easily understandable for many.
Besides the Golden Mask Dynasty show, Beijing offers far too many delights to explore as it is a city that never sleeps. Daytime attractions and districts that offer shopping and local snack places are turned into trending nightlife and a hub once the sun sets and neon lights are lit. Moreover, the bands playing live everything from R&B to jazz, create a festive atmosphere so much favorable by many. Houhai, 798 Art District, Sanlitun and Hidden Tree are those few places visitors adore.
Beijing at night is mesmerizing as it is in daylight. For instance Beijing Olympic Park – Bird's Nest and Water Cube are lit in red and blue making the visitor overwhelmed with the beauty of the buildings. Chang'an Street, Wangfujing Shopping Street, Qianmen Street, Sanlitun Village, Solana Blue Harbor International Commercial District, The Place and Shichahai are top destinations for a traveler to explore at night.
Joyful mood, great food, ancient culture and history make the fourth largest city in China, a destination place for many. Here, one can find everything of their taste. An enormous possibility to explore the country is what makes Beijing and China so unique and astonishing.