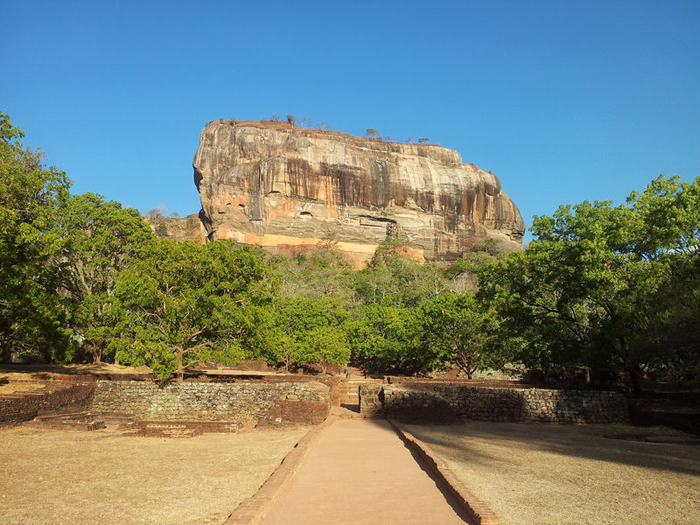 Islands by themselves are exciting and island nations are few. What do you do when you are on one such trip to an island nation that has an abundance of natural splendor? An island that you could say offers a sedate experience, is made of legends, one that's a jewel in the Indian Ocean, that's supposedly connected to mainland India by a mythical bridge – thin strands of shoal and sand that are still visible just a few feet below the sea! That's Sri Lanka in a nutshell and if you are on a short, say, three-day trip on Sri Lanka, while you should definitely stretch out on the peaceful beaches of Uppuveli and Nilaveli, you would not definitely miss these!
Adam's Bridge
The mythical bridge that we were talking about. It is just 18 miles that separate the two countries of Sri Lanka and India. Hindu mythology from the Ramayana epic has it that this gap is filled with shoals and sandbanks that was built by an army of monkeys when Lord Rama was on a mission to the island nation. During the British rule on the sub-continent, a small channel though was constructed to facilitate navigation for small steamships. There are records from the medieval era that say that there was a walking path linking the two nations. Even images captured by modern-day satellites have shown that an under-water surface linking the two does exist. A trip to these rocky outcroppings could spice up your travel tales.
The Lion Mountain
Sigiriya, as it is locally known, is one of the wonders of the world, that every traveler has on their bucket-list. A geological splendor, this is an ancient stone fortress at the top of a rock. The fort itself is surrounded by remains of a wide network of gardens and reservoirs. The fort, located in the Matale district has been recognized as a world heritage site by UNESCO. A long, tile covered walkway that emerges from the mouth of a stone-lion leads to the fort gardens. This rock fortress was built by King Kashyapa to hide from attacks by his brother. Post his death, this fort was used as a Buddhist monastery. Besides its archaeological significance, the paintings and frescoes that have survived till date are remarkable. The smaller caves surrounding the rock also houses several of these paintings that scholars say are examples of classical realism of a school of Sri Lankan art.
Adam's Peak
Talking of legends again and this mystically beautiful island nation has a surfeit of them. The mythical Garden of Eden that supposedly existed on an island, atop a mountain, so that it could have survived Noah's flood! Sounds familiar? Well, many believe that this is it. Situated near the city of Ratnapura in modern-day Sri Lanka, these mountains rise 7,360 feet above the sea level. Once on top, you have a majestic view of the land and the sea. Noted traveler Giovanni Marignolli makes mention of these mountains as an earthly paradise. These mountains are also referred to as Samanalakanda in the local Sinhalese language or as Sivanolipatha Malai by local Tamilians. A foot-shaped depression at the top of the mountain is revered as a pilgrimage and while Hindus believe that the footprint is that of Lord Shiva, Buddhists know it as Sri Pada, the footprint of the Buddha, while Muslims and Christians unanimously agree, as does the famous traveler Marignolli that this was definitely Adam's.
Temple of the Sacred Tooth Relic
Another UNESCO heritage site, the Sri Dalada Maligawa temple in the city of Kandy, is one among the holiest of Buddhist shrines across the world. The temple that was built by King Vira Narendra Sinha, today houses the sacred tooth relic of Buddha Shakyamuni. The temple is located within the larger royal palace complex of the former rulers of Kandy. The temple has been subjected to multiple damages by attacks from different political factions in the past but has been wonderfully restored.
Dambulla Cave Temple
A temple complex spread across five caves that are still functional! And, these caves have supposedly been inhabited since pre-historic Sri Lanka. Scintillating? Travel around 150 kilometers east of Colombo or if you are traveling from Kandy, then a 75-kilometer road-trip would take you to the wonders of the Dambulla Cave Temple. The caves have 153 Buddha statues and murals depicting the like and times of Shakyamuni. There is an interesting depiction of the demon Mara attempting to seduce Buddha Shakyamuni just before he attained enlightenment.
These are just a few of the many amazing places to see in Sri Lanka.