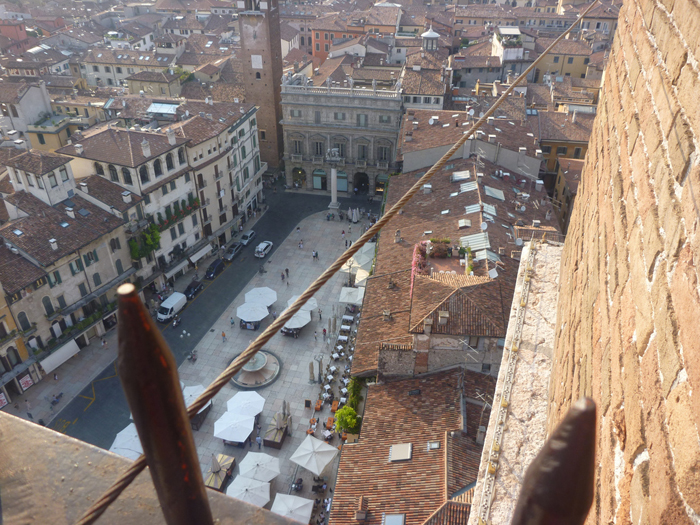 Verona gets skipped a lot when people travel to Italy. In most cases people travel the usual route from Rome to Florence and then on to Venice. Those with more time may go to Naples, Sorrento, Cinque Terre and Milan as well, but after reading this article, I think you may decide to put Verona on your itinerary as well. After all, you don't have to go out of your way to get there. There is a good chance that you will pass through the city on your way from Milan to Venice.
Verona is a beautiful Italian city that sits on the Adige River, home to the location of Shakespeare's Romeo and Juliet, and it's cultural and historical landmarks can rival any Italian City. Accommodation Verona is also easy to find. Here are a few of Verona's top attractions:
Piazza delle Erbe
The heart of the city, Piazza della Erbe is a great place to start your exploration of Verona. Historically, this was the Roman Forum, but it is now the heart of Verona's Historic Centre, surrounded by beautiful old medieval buildings. It is a great place to sit at a cafe and enjoy or coffee or glass of wine.
Juliet's Balcony
Without a doubt the most popular attraction in Verona, this is the very balcony that was Juliet's in Shakespeare's Romeo and Juliet. There is more here than just the balcony however, and you can go inside Juliet's 13th century house which is now a museum.
Verona Arena
This Ancient Roman Arena is the third largest in Italy. Built in the 1st century, this amphitheatre is in excellent condition and is still used for events and traditional opera performances today.
Archaeological Museum
The 1st century Ancient Roman Theatre is well worth checking out if you love historical sites. The Archaeological Museum above the theatre contains some interesting Roman and Etruscan pieces.
Verona Cathedral
No Italian City would be complete without it's grand cathedral. The Duomo di Verona is a complex of medieval church buildings that contain some amazing frescoes.
Castelvecchio
Built in the 14th century, this beautiful castle is a great example of Medieval architecture and contains a lot of towers and a beautiful fortified bridge that crosses the river. The castle is now a museum.
Piazza delle Erbe
If you love markets, then Piazza delle Erbe is for you. Surrounded by medieval buildings, Piazza delle Erbe is home to a popular fruit and vegetable market where you can immerse yourself into the local culture.
As you can see, there is a lot to do in Verona. You should definitely consider visiting this wonderful city during your travels in Italy.
Photo by grongar on Flickr