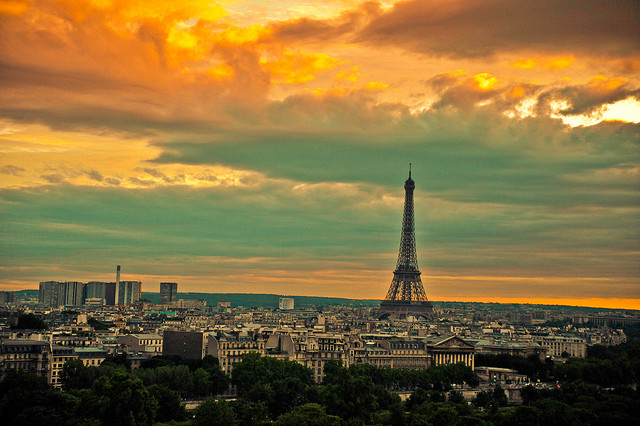 Paris, the city of love, one of the greatest cities in the world, the political and cultural capital of France. Paris is a must see destination on any traveller's list. It is a city full of history with incredible architecture, art and culture. If you're heading to Paris, these are the top 5 attractions to see.
Eiffel Tower (Tour Eiffel)
Photo by Bods on Flickr
Without a doubt, this is the symbol of Paris. When ever someone mentions the city, it is the first thing that pops into peoples minds. Built in 1889 by Gustave Eiffel and located in the Champ de Mars, the tower was constructed for the 1889 World's Fair. At 324m tall (around 81 stories), it is the tallest building in Paris, and climbing it gives incredible views across the city. There are three different levels that can be ascended on the tower. The first two both have restaurants on them and can be accessed via stairs or elevator, and the third and highest level is only accessible via the elevator.
Tickets to the 1st and 2nd floors cost €15 for adults, and if you want to go right to the top floor, tickets cost €24.
Notre Dame Cathedral (Notre Dame de Paris)
Photo by Olivier Bruchez on Flickr
This famous cathedral is located on the Île de la Cité, an island in the River Seine that has been settled for over 2000 years, which eventually was built into the city of Paris as it is today. The church has a long history and several periods of construction dating back to 1163. It is a fine example of French Gothic architecture that was greatly damaged during the French Revolution in the late 18th century. It was restored to how it is today in the early 19th century and now is an incredibly beautiful place to visit, and one of the most famous cathedrals in the world.
As Notre Dame is a church, entry is free, however if you want to visit it's towers (highly recommended) tickets cost €7.50.
The Louvre (Musée du Louvre)
Photo by Stew Dean on Flickr
Probably the most important and well known museum in the world, the Louvre is a must see for art lovers and all visitors to Paris. A product of the French Revolution, it was established as a museum in 1793 and has since then built up an incredible collection of fine art from all over the world, including some of the world's most important and ancient pieces, the most famous being Da Vinci's Mona Lisa.
Tickets to the main permanent collections cost €10, special temporary exhibitions cost €11 and a combined ticket costs €14. The museum is closed on Tuesdays.
Champs Elysées and Arc de Triomphe
Photo by Al-Meshal on Flickr
Possibly the most famous road in the world, Champs Elysées is a picturesque tree lined avenue that runs from the Arc de Triomphe towards the Louvre. It is an incredibly romantic place and a real symbol of Paris and France. The Arc de Triomphe is a stunning war monument that was commissioned by Napoleon in 1806 to honour his great victories.
Versailles
Photo by david.nikonvscanon on Flickr
Slightly outside of Paris, this historic royal château makes an excellent day trip out of the city and is not to be missed. Built in the 17th century, the Palace of Versailles served as the residence of the King and his court, and is a true symbol of royal grandeur. The palace is enormous and incredibly beautiful both inside and out. Other attractions at Versailles are the gardens, Marie Antoinette's estate and the Grand Trianon.
Versailles can be reached with a 25minute train ride from the centre of Paris. The best value ticket is their Passport Ticket which gives access to all attractions and tours, and costs €18.
These are only a few of the many things to do in Paris, but visiting these must see attractions, you will truly have a great experience in this amazing city when you travel to France.
For a good choice of hotels with discount prices, visit Recommended Hotels in Paris for more information. 
Busy exploring the stunning sights in Paris city and work interrupts? Get instant safe access to your private work space with hosted virtual desktop from CloudDesktopOnline with top-notch cloud products by Apps4Rent.com.
Photo by tibchris on Flickr