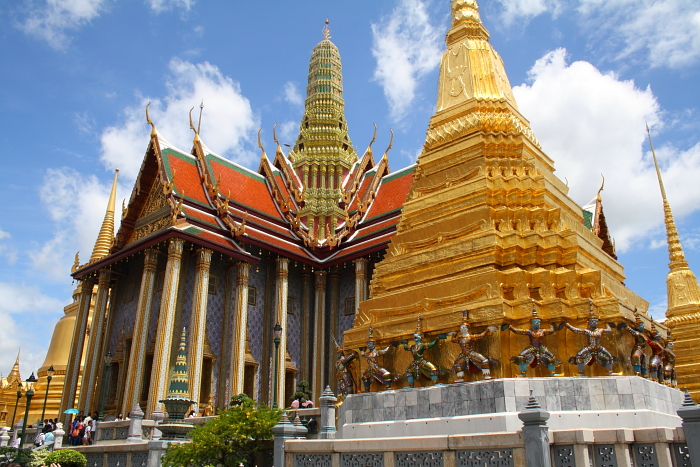 Bangkok is the capital city of Thailand and the gateway to South East Asia. This bustling Asian city is a shock to the senses, from busy traffic filled streets to a relaxing river cruise, spectacular Buddhist temples and an exciting night life, there is a lot to do and see in Bangkok and you need at least four or five days to see the best of it's sites.
Getting to Bangkok
Bangkok is well known as the gateway to South East Asia and many major airlines fly here from all over the world. Suvarnabhumi Airport is a large modern airport with many connections into the city center.
The easiest way to get into Bangkok is by metered taxi. When you step out of the terminal follow the signs to the metered taxi stands where you will be assigned to a taxi driver. Make sure that you ask the driver to put the meter on to get the best price, or alternatively arrange a price that you are happy with. A taxi from the airport into the center of Bangkok should only cost 400-500Baht including toll road fees.
Bangkok also has an excellent sky train system that connects the airport to many parts of the city. If you're staying in areas like Sukhumvit Road, this is an excellent option as the sky train stops right at the street.
You can also get to Bangkok by bus and train from some neighboring countries, but this can be a long journey with border crossings and taking multiple buses/trains.
Getting around Bangkok
The most common way to get around Bangkok is by metered taxi or tuk tuk. Make sure to always agree on a price before you accept the ride and if you don't feel comfortable with the driver, just find another one. There are always plenty of them around! Taxis won't usually put the meter on, so always ask first so that you can get the best price.
Tuk tuks are a great and fun way to get around the city, but be very careful of dodgy drivers. There are several scams in Bangkok where tuk tuk drivers take tourists to tailor and jewelry shops instead of their intended destinations, as the shops pay them a commission. When arranging a tuk tuk ride always agree on the price first and make sure that there will be no stops on the way. If the price seems too good to be true, it probably is!
Another great way to get around Bangkok is by boat. Ferries are cheap and run up and down the beautiful Chao Phraya River regularly, stopping at many different places throughout the city. This is a great way to experience river life in Bangkok.
You can also hire private long tail boats to take you where ever you want. Like tuk tuks, always arrange the price first.
Accommodation
Bangkok probably has the widest range of accommodation I have ever seen. From basic guest houses and hostels to expensive luxury apartments and hotel rooms, there is something for everyone's budget. The main thing you have to decide upon is which area of Bangkok you want to stay in, as it's a big city!
The most popular areas to stay in Bangkok are Sukhumvit Road, the central Silom district and the West Banglamphu area which includes the famous backpacker street of Khao San Road. You can reach all of the main sights quite easily from any of these areas and each has their own pros and cons. Sukhumvit Road is serviced by the sky train, where as West Banglamphu has easy access to the river ferries. Silom is good if you want to be close to the main central business district and nightlife of Patpong Road.
Comfortable guest house accommodation can easily be found in Bangkok for about 500Baht ($15) per night. Of course if you wanted to you could easily spend hundreds or even thousands of dollars per night for a luxury room.
Food
Bangkok is one of the great food cities of the world, and the local Thai cuisine is absolutely delicious. Being a large city you can also find all kinds of different cuisines including western meals, but I can never go past the delicious Thai food.
Bangkok street food is both safe and delicious and you can easily get a delicious local meal for $1. If you want to go to a local restaurant expect to pay only a few dollars for your meal. Of course it's also possible to find luxury restaurants with prices that rival western countries.
Make sure to only drink bottled water, as the tap water is not safe to drink. All kinds of beverages can be found everywhere and are usually very cheap. A large bottle of water at a 7-Eleven will cost around 10-15Baht, with soft drinks going for around 10-20Baht and large bottles of beer for 50-80Baht at a local restaurant.
Places to see and things to do
Bangkok is a large city and there is a lot to see and do. The most popular attractions are it's temples and markets and most of your time will probably be spent exploring these sites.
The Grand Palace
Home of the Thai Royal family since the 18th century, this magnificent palace is a must see in Bangkok. You cannot go inside the palace itself but you can wander it's grounds and marvel at the magnificence of the buildings.
Entrance fee is 250Baht and includes access to the Grand Palace, Wat Phra Kaew and some museums.
Temples
Wat Phra Kaew – Also known as The Temple of the Emerald Buddha, this spectacular temple is located within the grounds of the Grand Palace and is the most sacred site in Thailand. This one mustn't be missed.
Entrance fee included with the Grand Palace ticket.
Wat Pho – A large temple complex most famous for it's 45m long reclining Buddha that is coated in gold leaf with mother-of-pearl in laid on it's feet. Entrance fee is 50Baht
Wat Arun – Also known as The Temple of Dawn, this temple is located on the banks of the Chao Phraya River and is characterized by it's tall colourful prangs (towers) Entrance fee is 50Baht
Wat Saket - This lovely Thai temple is most known for the Golden Mount, a large artificial hill that rises 63m to a golden chedi at the top. There are excellent views of Bangkok from the top.
Markets
Chatuchak Weekend Market – Known as the largest open air market in the world, this market is not to be missed by shoppers.
Patong Night Market - Located on the infamous Patpong Road, this night market has some good shopping. Just try to ignore the Go-Go Bars.
Floating markets – Visiting one of Bangkok's floating markets is an incredible experience. Watch the boats meeting up on the river and canals to sell their goods. Some popular floating markets are Damnoen Saduak and Taling Chan.
Pak Klong Talad - Bangkok's largest flower market. It's very interesting to check out, particularly first thing in the morning.
Fresh food markets - These markets are located all around the city and you're bound to come across one. These are always interesting to explore and are a great way to experience local life.
Khao San Road
The famous backpacker area of Bangkok is an interesting place to visit even if you're not staying there. There is a permanent market lining it's streets along with heaps of bars, restaurants and anything else you could possible want.
Jim Thompson's House
A historical house and now museum of Jim Thompson, known for his revival of the Thai silk industry.
Entrance fee is 100Baht
River cruises
Crusing along the Chao Phraya River is a great way to see the city and experience the river life. You can simply take one of the many ferries that run up and down the river, or hop on a tour that explores Bangkok's canals and floating markets.
Massage
Thai massage is world renowned and there are massage parlors everywhere. There is no way that you can walk the streets of Bangkok without being asked if you would like a massage. Getting a relaxing foot massage is a great way to relax after a full day of sight seeing.
Shopping
If visiting the markets wasn't enough for you, visit one of Bangkok's amazing shopping malls. MBK is like a massive indoor market selling everything and at great prices. If you want high end fashion and have lots of money to spend head to Siam Paragon. If you're looking for electronics check out Panthip Plaza.
Chinatown
Bangkok's Chinatown is an exciting part of the city and a great place to shop, eat great food and explore it's interesting markets, stalls and temples.
Short on time? Check out the top 5 must see attractions in Bangkok.