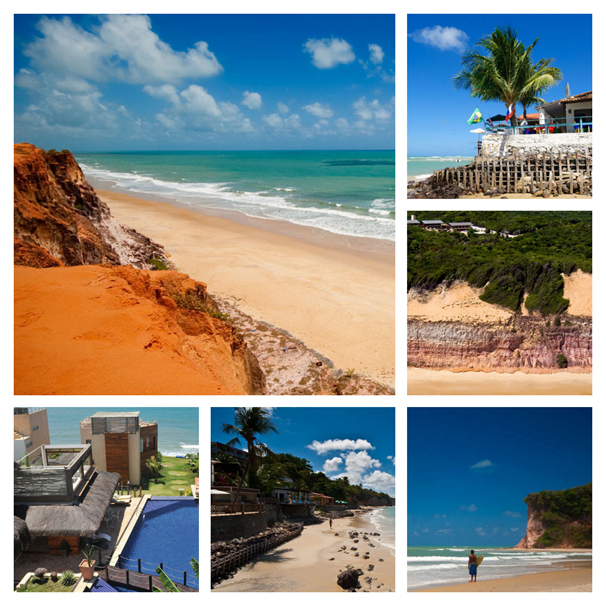 Praia da Pipa, often referred to as simply Pipa, is a fishing village in the north of Brazil that has become popular with travellers from around the globe.  Pipa has reached such a level of popularity that it now has an array of luxury resorts, boutiques and restaurants. That said, the village has managed to maintain its authenticity with regional laws preventing too much expansion, meaning that despite becoming a hipster hangout Pipa still has the lazy sun drenched vibe of a costal Brazilian village.
Preservation in Pipa goes beyond maintaining the village's vibe; Pipa is surrounded by beautiful beaches, an eco-sanctuary, Atlantic rainforest and stunning cliffs; it is even possible to swim with wild dolphins in Pipa. This, coupled with Pipa's growing popularity as a tourist destination, means that the village has plenty of activities to enjoy in the areas natural splendour. So expect to be cruising the sands in a buggy, hiking and sailing around the bays on a boat; all at a leisurely pace of course.
For adrenaline junkies the area is also very popular with kite surfers. Pipa is warm but does have strong enough winds to make kite surfing an enjoyable experience for surfers of any ability or experience.
Despite being small Pipa does have a vibrant nightlife with entertainment options ranging from bars and restaurants to nightclubs which can attract some internationally renowned names. Perhaps one of the best features of the nightlife in Pipa is that it is resistant to "peak seasons" and is generally buzzing all year round.
In and around Pipa there are some really great quality guesthouses to stay at. Pousada dos Girassois is within walking distance of the village and the beaches and has restaurants, room service and a swimming pool on site. Just over a mile outside of Pipa, in amongst a tropical park, Pousada Oka da Mata is another charismatic guesthouse set on a cliff; with beautiful views overlooking the Atlantic Ocean and the surrounding park. Pousada Oka Mata also runs a shuttle service into Pipa makings its distance from the village no problem.
A little further outside of Pipa is Kilombo Villas and Spa which is one of the most refined resorts in Brazil. This resort is concerned with luxury and the pampering of its guests. One of the highlights of Kilombo Villas and Spa is the rooftop spa which offers a variety of relaxation treatments against the backdrop of some of the most astounding beach views you could imagine; this certainly one for travellers looking to treat themselves.
About the author: Michael is a guest author working on behalf of Sunset Visitor. He is a travel and design enthusiast.