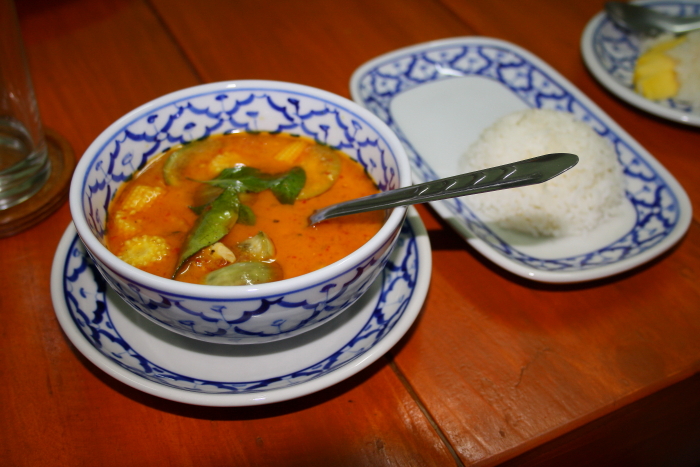 There is so much to say about Thailand's bustling second biggest city, but you can read an educational guidebook to learn about the temples, the rivers, the searing temperatures, drivers who won't stop for you just because the light is red and Tuk Tuk riding etiquette. This post is about one thing, and one thing only, because it's what too many people probably miss out on if it isn't pointed out right from the beginning.   The title gave it away already, but for those who need us to point it out it's the food. The stunning selection of regional delicacies, cooking schools and culture and some of the best value food markets in the country are what those who really experience it remember when they leave Chiang Mai.
You will have your dose of culture and Western style bars that serve a quaint (and valiant) attempt at burgers and fries, milkshakes or pizzas but please, whatever you do, don't just eat at the 'civilised' looking places when you're in Chiang Mai. There is a world of flavor and fun just ever so slightly off the beaten track. And for you backpackers happy with the main street junk food at Asian prices, you don't know cheap until you know Chiang Mai's hidden street markets.
1. Organise to do a cooking class (it's ok, you really don't need to be experienced either).
Chiang Mai and the whole of Northern Thailand, Laos and Vietnam share a love of spicy, clean flavours, fresh cooking and delicious aromatic curries known and loved the world over. Ever enjoyed a Papaya Salad at a Thai restaurant? Learn where it really comes from and how to make it at any one of a number of decent cooking schools. You can usually cook the dish you've chosen to do, learn a few recipes at once, enjoy a feast you won't forget and pick up a cookbook all for the cost of one decent meal back home. You're likely to meet fellow foodies and pick up useful tips and tricks at these sorts of things too.
While Chiang Mai has a number of central cooking schools, take a look at the farm ones for the chance to see where the produce is picked, how it's all assembled and learn about what grows during what times of the year. You will get transport to and from the farm school, the chance to cook at least 3 dishes and an entire day of fun out of it too.
2. Eat at the street stalls the locals all visit
This one is actually easier said than done because all the food in Chiang Mai is relatively good wherever you happen to be. BUT It's important to look beyond your immediate surroundings, even though they will probably be full of delicious smelling Roti stands and cutesy and inviting bars, restaurants and cafes. The huge night markets have a selection that would impress anybody, but something even better (and far less crowded!) awaits. They're buried in the pages of those popular guide books everyone lugs around, or sometimes found in a directory and it is mighty tempting to pass up the trip to the other side of town but to say the trip will be worth it would be an understatement.
Prepare to spend 100baht or so on a taxi ride to a place like the corner of Th Mani Nopharat and Th Chang Pheuak, where the most sensational Pad Thai,  the kind you'd happily spend $20 on in a fancy restaurant with crispy fried shallots, shrimp and chicken is prepared in front of your eyes and costs the equivalent of around 10c Australian (10-12c American). A plate of slow braised pork hock and rice will set you back about the same.  This is the kind of place where you won't be eating surrounded by masses of tourists either. Just don't expect the stallholders to speak any English and do expect a strange look if you refuse your change and offer a tip.
3. Eat the traditional Thai breakfast option at least once from your hotel
While it might not be to everybody's tastes, this one is really worth a try. There is a chicken, pork or shrimp option (usually) and what you get is small pieces of tender meat, rice and spring onions cooked in a delicious mild broth that doesn't pack the spicy punch some Thai soups eaten later in the day are known for.
It is strange at first, but the more you see it and try it the more you will realize that this is the sensible option for the local climate and will not clog your body up with dairy, sugar and heavy stodgy bread. Apart from the fact you know it's what the locals will be eating, you can trust that it's prepared with local fresh ingredients so even if you find savoury in the morning to be strange, don't knock it until you've tried it. Travel is all about doing things to bring you outside your comfort zone, so why not get started right there at the breakfast table?
About the author: Kalianna is a journalist, website editor and sometimes contributor to various Sydney eating out guides, whose love of good food sees her follow her nose to where it smells good. She has previously blogged about her cooking misadventures as The Dean of Food, and currently writes freelance for www.accommodation.com