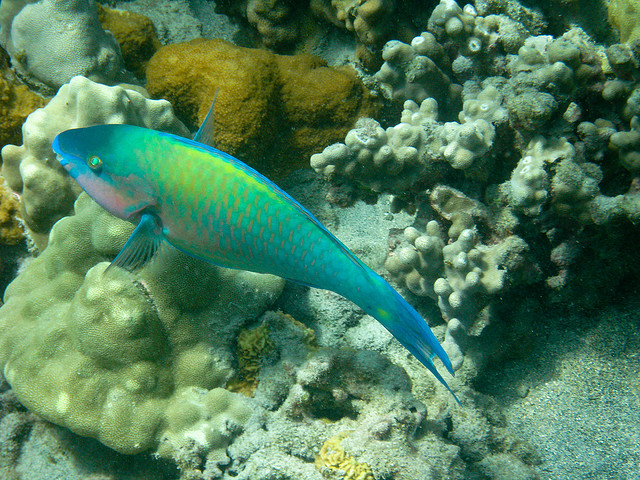 The first time you see a parrotfish, it's incredible…colors straight from the Vegas skyline, and what's with the goofy lips?  But after a while, even the brilliant parrotfish gets old, and you're ready for something new underwater to amaze you.  Today we bring you 10 scuba destinations to pin on your wall, where you can see astonishing creatures big and small, wrecks, unusual formations, and schools of fish so dense you can't see through them.  It's time to make your five-year plan for dive experiences you'll never forget.
Maldives
Ithaa underwater restaurant, Maldives by memorypixel on Flickr
With most resorts here sporting overwater bungalows, it looks a lot like Tahiti above water, especially the Tuamotu Atolls, as most resorts are each on their own little island. Most diving here is drift diving from liveaboards, and the currents sweeping through the chain of islands brings plenty of nutrients for the creatures…which means, of course, LOTS of creatures. Napoleon wrasse, parrotfish, snapper, jacks, barracudas, soft corals, and sponges are everywhere. Further away from the reefs you'll find sharks, whale sharks, manta rays, and eagle rays. The fabulous Four Seasons Resort–whose spa has its own separate island–has its own liveaboard dive boat, the Four Seasons Explorer, with 11 rooms on board. And if you never get tired of watching the fish, the Conrad Maldives Rangali Island boasts Ithaa, its underwater restaurant, where you can enjoy your seafood dinner while watching just slightly fresher fish swim above and around you.
Bora Bora, French Polynesia
Bora Bora by jonrawlinson on Flickr
The iconic views of the extinct volcano of Mount Otemanu above the water will be etched in your memory, but your underwater adventures will likely be unforgettable as well. The island in the center is surrounded by a quiet, fairly shallow lagoon, in turn surrounded by a coral reef ring that's home to most of the resorts there. There's one big gap in the ring, and it's on the west side…it's called Tapu. Water flows in and out of the lagoon through this point, and it seems to suit sharks just fine. Expect to see plenty of black tip sharks, lemon sharks that feel like freight trains going by you, and the occasional gray shark as well. On one dive, we had an enormous Napoleon wrasse–probably 5-6 feet long, and almost that tall–join our dive group, swimming so close to us that I actually had to be careful not to hit it with my fins. At times you can expect to have 50+ sharks within sight. If hammerheads are your thing, however, head northeast to Rangiroa in the Tuamotu Archipelago.
Hawaii
Hawaii Wreck Diving by puuikibeach on Flickr
Don't overlook Hawaii as a dive destination: it might not seem as exotic as some of the others, but there's plenty to see. On Oahu, there's a nice wreck dive (Yard Oiler YO-257), and for a non-tank day Haunama Bay is superb snorkeling. The Big Island plays host to many manta rays, especially in Keauhou Bay, where world-renowned manta ray expert James Wing offers dives tours. The mantas come in close enough most evenings that you can even see them from the shore. Maui is home to a number of terrific dive sites, and just offshore is Molokini Crater, where you'll find manta rays as well as sharks on the outside of the crater, where the sea floor drops to maybe 130 feet or so. From Maui you can also take a dive trip to Lanai to see the Cathedrals, so named because of caverns formed by lava, leaving tall slits of "windows" through which sunlight filters, looking very much like stained glass windows. You can swim inside some of these, and they're big enough that you'll see schools of fish in there with you as well. Head to Kauai, and check out the Sheraton Caverns (lava tubes, frogfish, black coral, and tons of turtles), Brennekes Ledge (humpback whales, grey reef sharks, giant tuna), or if you're feeling brave go a little further to Niihau where the dives are deep and the current can be strong, and you'll see sharks, and maybe the elusive monk seal.
Seychelles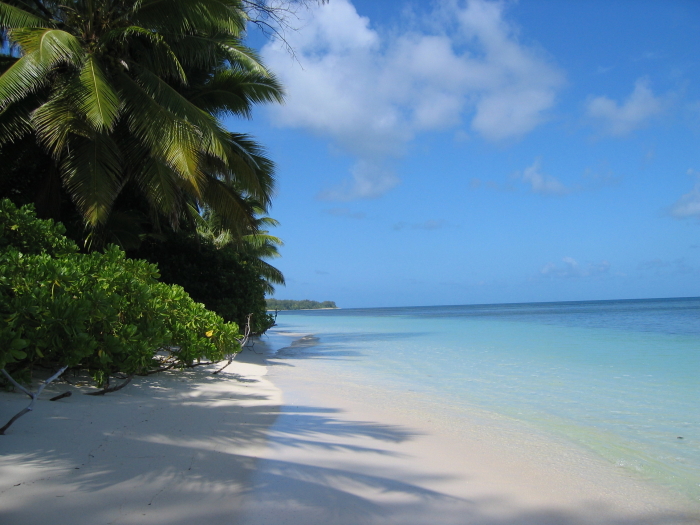 The Aquarium, Seychelles by Michael Cottam
The Seychelles are a tiny group of over 100 islands in the middle of the Indian Ocean, roughly 1000 miles off the east coast of Kenya. When you're that far from any major land mass, you expect the undersea wildlife to be pretty much undisturbed, and you'd be right. Absolutely enormous schools of fish, octopus everywhere (I saw at least a half-dozen on a single dive), and terrific visibility. Travel to one of the outer islands, such as Desroches Island (about 150 miles from the main island of Mahé), and it gets even better. This far from any other island, and with only 1 dive boat at the resort, you can be sure that if you see another diver underwater, they fell out of the same boat you did. Even the snorkeling is spectacular: pictured is the beach known as "The Aquarium", a short bicycle ride up the island, with over a quarter mile of shallow coral reef perfect for exploring with just a mask and snorkel.
Fiji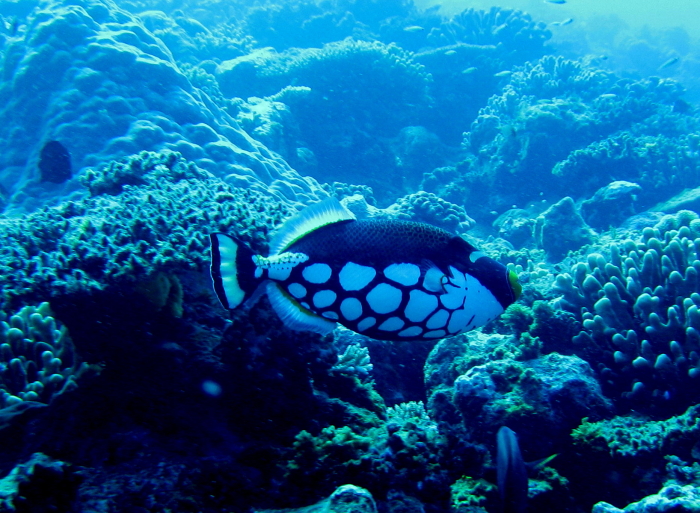 Clown Trigger Fish in Fiji by Michael Cottam
Perhaps best known for its spectacular soft corals, Fiji is really a great all-round dive destination. The Malolo Barrier Reef in the Mamanuca (pronounced "Mamanootha") islands is easy enough for new divers, and in fact many resorts offer a "resort course" for total beginners. The best corals and most advanced dives are in the north, near Taveuni and Vanua Levu (where Jacques Cousteau's son, Jean-Michel, operates a resort), but the diving in the Mamanucas and Beqa Lagoon to the south is stunning as well. Look for many different species of sharks, an amazing assortment of fish (including the clown triggerfish, pictured), and you've got a good shot at seeing dolphins play in your bow wave on the way back to land.
Video by Michael Cottam
Thailand
Phi Phi Island by Ilse Reijs and Jan-Noud Hutten on Flickr
Not far from the popular tourist destination of Phuket Island are numerous terrific dive sites. Koh Racha Noi offers a chance to see whale sharks and manta rays. The Phi Phi ("brothers" in Thai) Islands are 1500 foot tall columns rising straight out of the ocean, and underwater there's swim-throughs, caves, and walls dropping down as much as 75 feet, with tons of soft corals, and plenty of reef fish. There's also Shark Point, which is part of a marine sanctuary, where you'll find leopard sharks and huge schools of tropical fish, sea fans, and colorful soft corals. Opt for one of the all-day trips on the larger boats, and enjoy fresh-cooked, authentic Thai food onboard in between some spectacular, memorable dives.
Belize
Diving in Belize by jayhem on Flickr
Belize is well known for great diving, with a barrier reef extending some 185 miles just a couple of miles off the mainland. Common sightings include large stingrays, manta rays, and spotted eagle rays, and whale sharks. With so many great Belize resorts close to the area, diving is a must when visiting this exotic location. Perhaps the best-known dive spot here is the Great Blue Hole, about 60 miles offshore of Belize City. It's a perfectly circular limestone sinkhole that's just under 1000 feet in diameter, and over 400 feet deep. Here, you'll find giant groupers, Caribbean reef sharks, blacktips, and an occasional lucky diver will spot a hammerhead or a bull shark. Jacques Cousteau came here on his ship, Calypso, in 1971, and declared it to be one of the top 10 dive sites in the world.
Micronesia
Truk by mattk1979 on Flickr
Palau offers some amazing diversity of undersea life, with over 1,300 species of fish and more than 700 species of coral. Sharks are in abundance; manta rays are commonly found at German Channel. But one of the big draws is the wreck diving, as over 60 ships were sunk there in one raid alone. Wrecks range from the 315-foot long USS Perry, to the Iro, an oiler with coral-covered bow and stern guns, to a Japanese Navy floatplane that sits at about 30 feet. For advanced divers, there's Blue Corner, thought by some to be one of the best dives on earth, with large pelagics, schools of barracudas, sharks, and turtles. One of the best wall dives in the world is here too: The Ngemelis Drop-Off, with brilliant sponges, corals, and sea fans adorning a wall that goes from just a couple of feet deep to nearly 1000 feet.
Chuuk Atoll/Truk Lagoon contains over 100 sunken ships, submarines, and airplanes from a World War II battle between US carrier planes and the Japanese Imperial Fleet. The water is shallow and clear, and many of the wrecks are visible even to snorkelers.
Bikini Lagoon contains the only fully dive-accessible US aircraft carrier, whose deck sits at about 100 feet.
Red Sea
Diving in the Red Sea, Egypt by Derek Keats on Flickr
The northernmost tropical sea in the world, the Red Sea is bordered by Egypt, Saudi Arabia, Sudan and Eritrea opens onto the Indian Ocean through the Gulf of Aden. Its name comes from the algae blooms that color the sea red periodically. There are 1200 miles of coral reefs along the coasts, home to over 1200 species of fish (roughly 20% of which are only found here), gorgonian fans, feather-stars, as well as dolphins, turtles, and over 40 species of sharks. There are wrecks to dive–some of the more famous are the Kingston, which struck Shag Rock in 1881, and the Thistlegorm, sunk by Heinkel HE 111 bombers in 1941. The Ras Mohamed National Marine Park is a popular place to dive, with beautiful underwater formations and an abundance of marine life, including barracuda, unicorn fish, and sharks. Shark Reef, in this marine park, was rated by Cousteau as one of his top 10 dives.
Great Barrier Reef
The Great Barrier Reef by Eulinky on Flickr
Over 1400 miles long, the Great Barrier Reef sits off the east coast of Australia, and offers some of the best marine life for divers and snorkelers anywhere in the world with over 1500 species of fish. There are plenty of great spots for beginner and intermediate divers, as well as deeper sites on the outer reefs for the more advanced divers. Heron Bommie, just off Heron Island, was named by Jacques Cousteau as one of his favorite 10 diving locations in the world. 6 species of turtles can be found on the Great Barrier Reef, as well as dolphins, humpback whales, porpoises, and minke whales. Sharks? There are 125 species of shark, stingray and chimera. There's more: giant clams, nudibranchs, pipefish, and seahorses too. An annual mass spawning of the coral happens in October (inner reefs) and November/December (outer reefs). There are day trips to the reef available from Cairns, and the more serious dive trips are via liveaboards to the outer reefs such as Osprey Reef and the Ribbon Reefs.
Bio: Michael Cottam is the founder of Visual Itineraries, a travel planning website, and has been diving all over the world since 1981.
Parrotfish Photo Credit: mbostock on Flickr