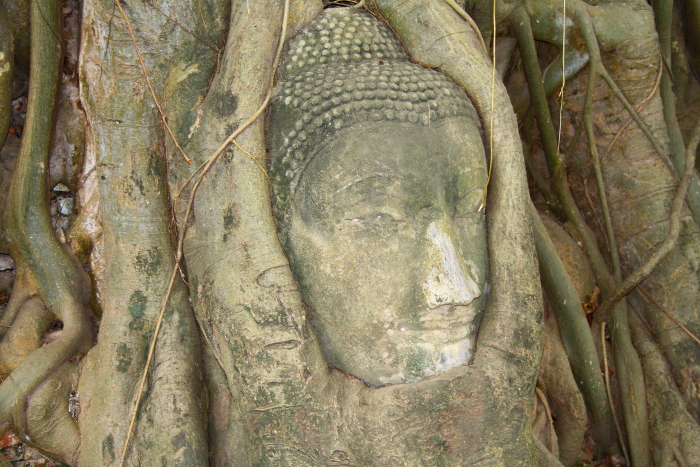 Ayutthaya is an ancient Siamese capital city in Thailand, located north of Bangkok. Dating back to 1350 when King U Thong moved from Lopburi, Ayutthaya was proclaimed the capital of his kingdom, founded on an island in the Chao Phraya River, which is also the meeting point of the Lopburi and Pa Sak rivers.
Ayutthaya was built into a grand city that by the year 1600, had a population of around 1 million people, making it one of the largest cities in the world. It thrived due to it's perfect location for trading. Unfortunately after many attacks, the city was invaded and destroyed by the Burmese in 1767 and then left to ruin.
The modern city of Ayutthaya has been built around it, however many of the ruins of this once great city are still standing, providing you with the opportunity to dive into the history of the Kingdom of Siam.
Getting to Ayutthaya
The best way to get to Ayutthaya is by train from Bangkok. The main train line that runs from Bangkok to Chiang Mai runs straight through the city, and the local 3rd class trains run from Bangkok regularly and cost only 15 Baht ($0.46). The trip takes 1 hour and 45 minutes, so it is easily done as a day trip from Bangkok. It is also a popular stop when taking the train to Chiang Mai, and you can catch the sleeper train straight to/from Ayutthaya Station.
If you don't want to take the train, there are also plenty of buses and tours that you can join from Bangkok.
Getting around Ayutthaya
To get from the train station to the Ayutthaya Historical Park, catch a tuk tuk. The ride should cost about 60Baht, but make sure to always agree on a price before you go.
The tuk tuk drivers in Ayutthaya will almost always have a whole bunch of postcards with the different ruins on them. So you can arrange for them to take you around for a few hours to see what interests you. Once again, make sure that you agree on a price beforehand.
The best way to explore the ruins in my opinion is to rent a bicycle. They are available all over the place and are cheap to rent for the day. The main ruins are located on the west of the main island, so cycling is easy. It is also possible to walk between some of the ruins, but it can get very hot, particularly in the middle of the day.
Accommodation
There is a good range of guest houses available in the city, as Ayutthaya is a popular stop for tourists making their way north to Chiang Mai. Prices vary depending on quality. We found a nice private room with air conditioning for 600Baht ($18.75) per night. It is possible to get cheaper rooms and there is also a good range of hotel accommodation available.
Food
Most guest houses will have meal options as well, but Ayutthaya has plenty of local restaurant and street food options to choose from. Street food meals cost around $1 and sit down restaurant meals are no more $3. We also found a nice Chinese restaurant that had food for around the same price.
Places to see and things to do
The main draw to Ayutthaya is it's ancient ruins and temples, and most of your time should be spent exploring these interesting sights. Most of the temples have an entrance fee of 50Baht ($1.57)
Wat Ratchaburana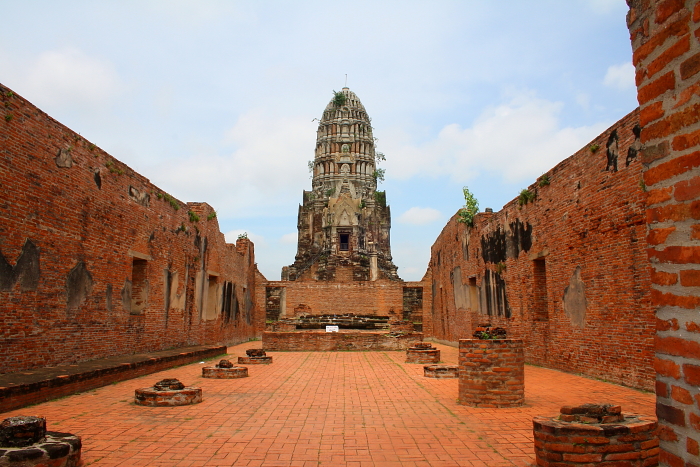 These are some of the best preserved ruins in Ayutthaya. It has a beautiful tall prang (tower) in it's center, with some ancient artwork and a crypt that you can go inside to view.
Read more about Wat Ratchaburana.
Wat Maha That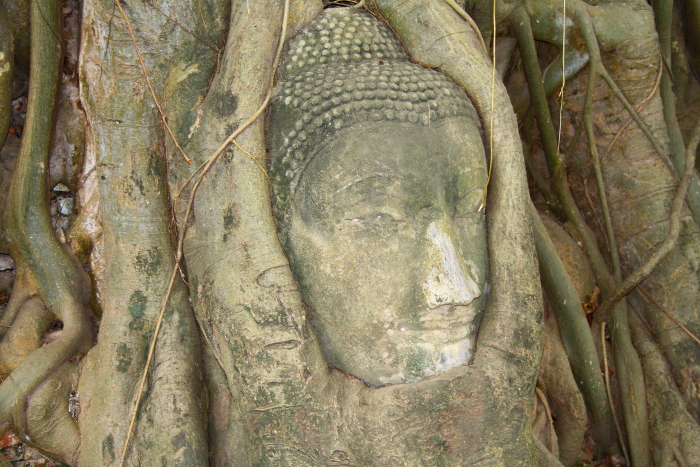 This is one of the most popular ruins in Ayutthaya, due largely to the ancient Buddha head that has been "strangled" by a tree.
Read more about Wat Maha That.
Wat Phra Si Sanphet and the Royal Palace
The largest of the temples in Ayutthaya, it is characterized by a row of restored chedis. This temple is located in the grounds of the former Royal Palace, however there isn't much left to see.
Wat Chaiwatthanaram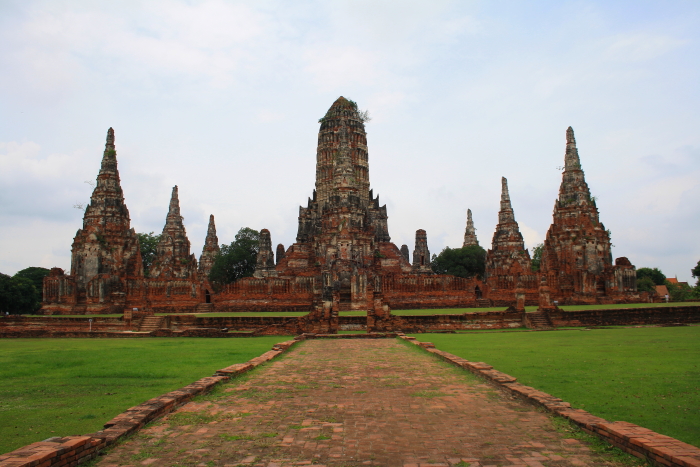 Located off the main island on the opposite bank of the river, these temple ruins were actually my favourite, with 8 beautifully preserved towers surrounding a large central prang.
Read more about Wat Chaiwatthanaram.
Wat Thammikarat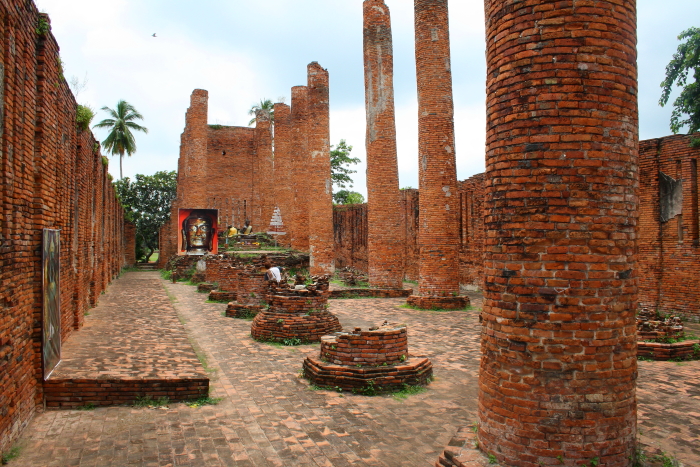 A lesser visited ruin, this is actually still a working temple and has some modern buildings built around the ruins. It has an interesting chedi surrounded by lion statues.
Read more about Wat Thammikarat
Wat Phra Ram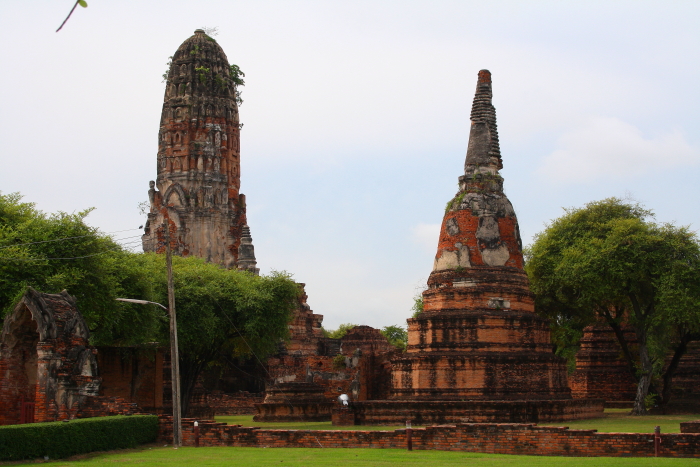 This was actually the first of the ruins that we came to. It has a large prang surrounded by a few other chedis and walls.
Museums
There are a couple of museums in the city to learn more about it's history and view some of the few remaining artifacts from this once rich kingdom. The two worth visiting are the Ayutthaya Historical Study Centre and the Chao Sam Phraya National Museum.
River cruise
A peaceful way to take in Ayutthaya is to take a cruise around the island. There are a few different options, the most popular being the lunch cruises.
Markets
Ayutthaya has a couple of markets to explore. We only visited one while we were there, which was located next to Wat Phra Si Sanphet. It had a number of interesting items including local handicrafts.
For more local markets head to Chao Phrom Market or try Ayutthaya Floating Market.
Other ruins
There are ruins scattered all around Ayutthaya and you could spend days exploring them. Some other popular sights are the ancient foreign trade settlements located outside of the main island, the best being the Portugese settlement.
You only really need one day to explore Ayutthaya, and it is definitely worth stopping at, particularly if you love history and ancient ruins.
Back to Thailand Travel Guides